The NFL draft is largely unpredictable in most aspects, and that applies to every round. Teams never really know how good — or bad — a player will be at the next level.
But while success in the league typically gets harder to achieve the later a player is picked, there are still plenty of examples of draftees severely outperforming their draft slots. Washington Commanders' safety Kamren Curl is near the top of that list.
The then-Washington Football Team selected Curl in the seventh round of the 2020 NFL Draft. Since then, he has done nothing but prove everyone wrong. He's played at least 700 snaps in each of his first three years, all while finishing as a top-30 safety by PFF grade each year. In 2022, he earned the second-highest grade at the position in the NFL and was the only safety to earn at least an 80.0 PFF grade in run defense, tackling and coverage.
It turned out to be harder to find an advanced statistic that Curl didn't place in the top 10 in.
| | |
| --- | --- |
| Advanced Statistic | Stat (rank/eligible players) |
| Missed Tackle Rate | 4.7% (T-6th/69) |
| Average Depth of Tackle | 3.9 (2nd/64) |
| Run-Stop Rate | 5.7% (4th/64) |
| Man Coverage Grade | 75.7 (2nd/65) |
| Zone Coverage Grade | 74.5 (9th/65) |
Curl is now not only one of the best all-around safeties in the NFL but also one of Washington's most important players. When he's not on the field, the defense isn't nearly the same. He was forced to miss the first two weeks and the last four weeks of the 2022 season with injuries, and Washington's defense struggled mightily.
| | | |
| --- | --- | --- |
| | With Curl (W3-15) | Without Curl (W1,2,16,17) |
| EPA per play (rank) | -0.061 (7th) | 0.058 (29th) |
| Scoring Drive Allowed % (rank) | 28.9% (3rd) | 46.8% (30th) |
| Successful Play Allowed % (rank) | 31.8% (5th) | 34.3% (17th) |
*Note: Week 18 was omitted due to it being a backup-heavy, meaningless game between Washington and Dallas.
Curl showed in his first regular-season action as a rookie that he was going to be at and around the line of scrimmage making plays.
This is such a good play by Kam Curl. Recognizes the screen, works around the guard and makes a beautiful tackle.

Curl finished the game with a 74.4 coverage grade which was the 2nd highest on the team, #WashingtonFootball pic.twitter.com/1KDybrfud4

— Nick Akridge (@PFF_NickAkridge) September 15, 2020
Tackling, in particular, was a significant area of improvement for Curl in 2022. He made a massive jump from his rookie season to his third year in limiting his missed tackles and went from ranking in the top 10 in most missed tackles as a rookie to the top 10 in fewest missed tackles this past season.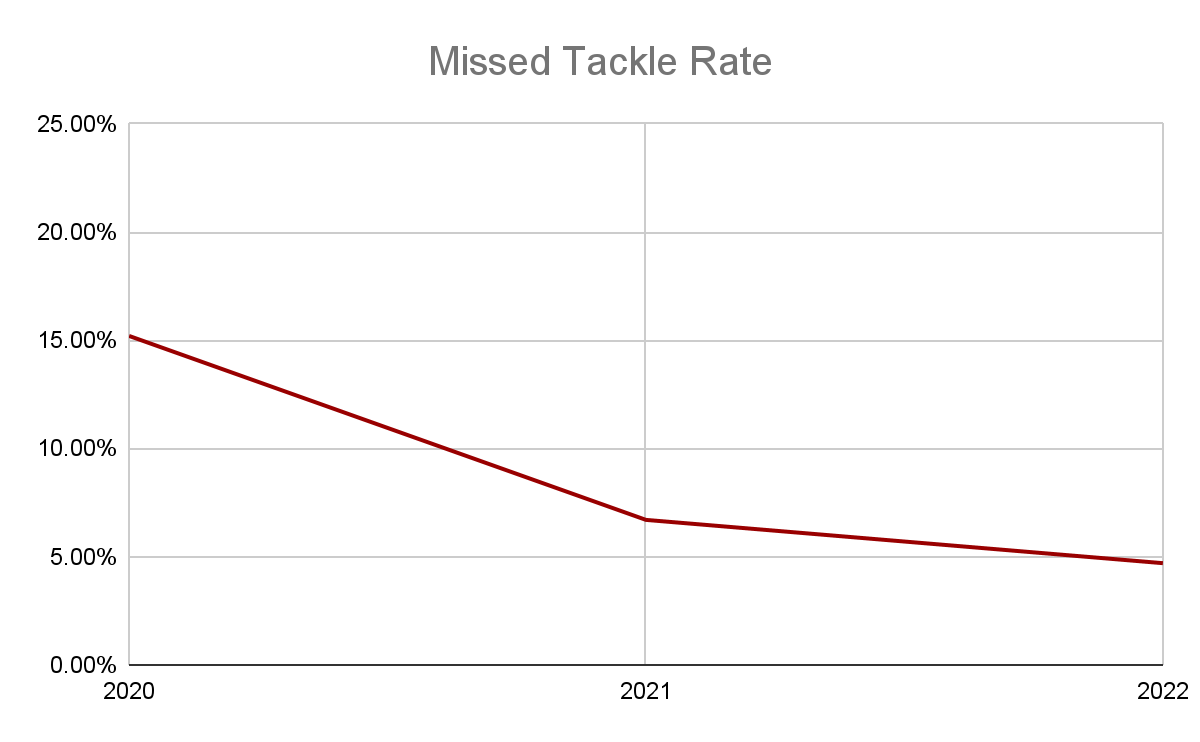 As a rookie, Curl displayed veteran-like tendencies in terms of always knowing where to be. He just needed to focus on finishing the plays. And last year, he did.
His continued improvement in man coverage also stands out. Much like Curl's missed tackle rate, his man coverage grade was a different beast in his rookie season compared to this past season. He went from being a middle-of-the-pack man coverage defender to one of the NFL's best.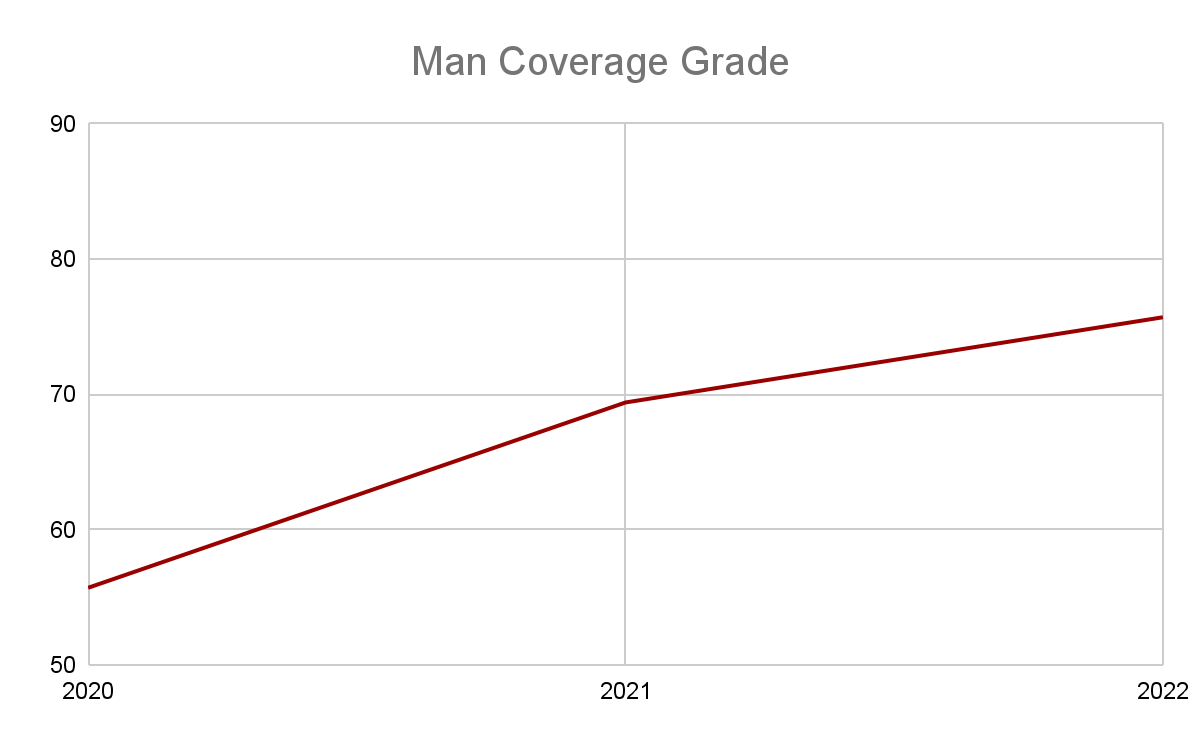 Curl had shown some flashes but lacked the consistency needed to play in the slot as much as he did.
Kam Curl has been fantastic for Washington this year, but if he can develop to the point where he can do this consistently, then Washington has a real player in him. Works over Aiyuk in the slot, who runs an out. Matches the route perfectly while reading QB, gets the PBU pic.twitter.com/fK2fPvA5gu

— Mark Bullock (@MarkBullockNFL) December 15, 2020
That changed this past year when he finished with the second-highest man coverage grade among safeties. He's taken two weaknesses in his game and turned them into strengths, all of a sudden spearheading a Washington defense that has been one of the NFL's best over the past couple of seasons.
Curl's biggest strength has always been his ability to not only play multiple positions but excel in those positions.
A big positive for Washington on Sunday was Kam Curl. Played a variety of roles and did well. 1st play of this clip, covers TE on over route, undercuts it to break it up. 2nd play, works from deep to cut a crosser and break that up too pic.twitter.com/Tv2qVQieVd

— Mark Bullock (@MarkBullockNFL) September 15, 2021
He plays everywhere for Washington, which allows the defense to give offenses multiple looks without a drop-off in the quality of play. The coaching staff knows he can excel in every coverage role they ask of him while also not losing any strength in the run game. Despite his frame, he's never been afraid to throw his body around at the line of scrimmage.
Take a look at this play from Curl's rookie season. The angle doesn't do it justice, but he tracks the running back through three separate gaps to eventually make the tackle. It's an incredible display of patience to not shoot the gap too early. He starts by covering the strongside A-gap, then moves to the weakside A-gap and finally makes the play in the weakside B-gap.
Washington's strength has always been its defensive line. Jonathan Allen has been one of the most dominant defensive tackles in the NFL for multiple seasons now. Daron Payne and Montez Sweat are both coming off their most productive seasons, and a healthy Chase Young, who won Defensive Rookie of the Year in his last full season, is back in the fold. That's four first-round picks starting on one position unit. But despite all of that firepower up front, the most important member of that defense is arguably the former seventh-round draft pick Curl.
He's up for a contract extension after this season, and while Washington has shown it isn't afraid to pay its homegrown defensive talent, it's time to retain Curl for the long haul.